Joined PGA 1983 Assistant at Buckingham Golf Club
Fully Qualified Professional 1987 (Distinction for teaching the golf swing)
1987 – 1990 Head Teaching Professional at Addington Court Golf Club
1990 – 1991 Wexham Park Golf Club
Aug 91 – Today Ombersley Golf Club
My career has taken me from a private members' club in Buckinghamshire to a public complex on the outskirts of London. This provided a complete education covering the whole golfing spectrum. From 1990 my working life has been at pay and play facilities which sit in between. Having gained a distinction in my exam on the golf swing, my early years were spent teaching. I am passionate about teaching golf to absolutely everyone who wants to play the game. I get as much enjoyment from teaching a complete novice to hit a cracker as I do showing a single figure handicapper how to shave a couple of shots off his or her round. My in depth studies of NLP (Neuro Linguistic Programming) have combined to increase my communication skills to enable me to work faster and in tune with my pupils best learning method.
I believe "simple is brilliant" and the best teacher is the one who makes you both understand and better in the easiest possible way.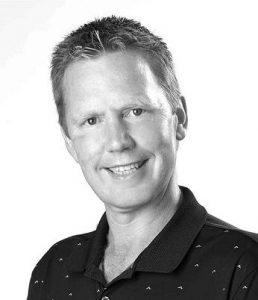 One of my favourite passages from my NLP education is this;
There is an old story of a boilermaker who was hired to fix a huge steamship boiler system that was not working well. After listening to the engineer's description of the problems and asking a few questions, he went to the boiler room. He looked at the maze of twisting pipes, listened to the thump of the boiler and the hiss of escaping steam for a few minutes and felt some pipes with his hands. Then he hummed softly to himself, reached into his overalls and took out a small hammer and tapped a bright red valve, once. Immediately the entire system began working perfectly and the boilermaker went home. When the steamship owner received a bill for £1000 he complained that the boilermaker had only been in the engine room for fifteen minutes and requested an itemised bill. This is what the boilermaker sent him;
For Tapping with the Hammer £0.50
For knowing where to tap £ 999.50
Total £ 1000.00
Very simply, I can spend a small time in the engine room and know exactly where to tap. There is no guessing. I am happy to take golfers on to the course and be measured, during playing lessons as well as range or practice ground sessions. I try to make learning the game as enjoyable as playing the game with a friendly positive approach.
Cure Your Slice
If you're fed up with your ball swerving severely to the right (right handed golfer) then you should book a one hour session with me. I will explain and cure the spin that ruins your distance as well as your accuracy. In just one hour, I will educate you on the cause and cure OR YOUR MONEY BACK! I cure left handed slices as well. Book right now for better golf.